GS Toolbox v1.1 - Major Update
After long wait the new update for GS Toolbox v1.1 is finally here!
In this update big focus is on the Procedural Arrays workflow, Mac OS (OSX) support as well as adding much needed Quad Fill function!
Plug-in available here: LINK
Arrays
Linear and Radial Arrays are now available with Uniform and Deformed modes.
Uniform will simply copy the objects along the axis and add a control curve.
Deformed will copy the objects and deform them to match the control curve curvature.
Change number of copies procedurally.
Create instant jewelry from different objects all controlled by one curve.
Combine Uniform and Deformed arrays for added effect.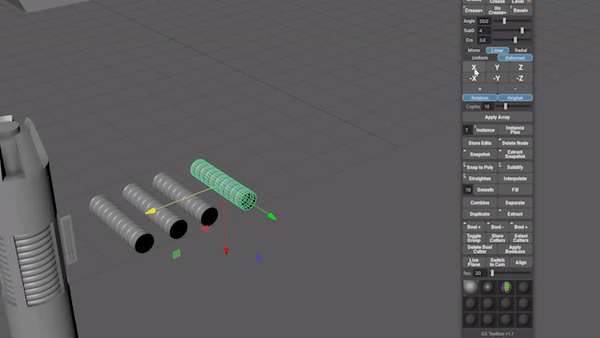 Arrays Tutorial
Fill with Quads
Filling holes in objects with quads that follow the curvature and spacing? Yes!
One simple button with a lot of control. Select one vert for simple fill and two verts for advanced patterns.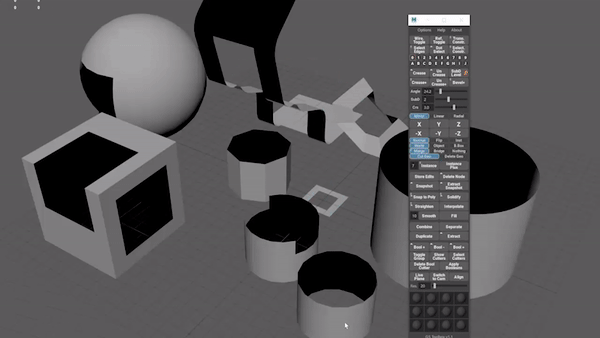 Fill with Quads Tutorial
Changelog
New Features:
Reworked User Interface. It will now stretch with the window, expand text to fill the buttons and more.

Arraying System with two types of arrays, each one of them with two different modes. Select axis, add or remove objects to/from the array. Change parameters. Control with a curve. All procedural. All editable:

Select initial Axis.
Multiple objects in one array. Create procedural pipes, jewelry, laces and other repeating patterns.
Add or Remove objects to/from the array. Create Patterns.
Deformable and Non-Deformable Linear arrays.
Deform with a curve. Linear arrays will follow the controller curve.
Deformable and Non-Deformable (Uniform) Radial arrays.
Radial Mirroring (Radial Arrays)
Procedural Parameters. Change them on the fly.
Array randomization.
Quickly apply arrays to continue modeling.

New Smooth Edge function. Smooth Edges and Edge Groups. Change multiplier to increase or decrease the effect.

New Fill Hole with Quads function. Select one vert to fill the hole. Select two verts for custom patterns of quads. Works on curved and complex surfaces.

New and Reworked Instance+ function. Now it allows to switch between two modes (Mesh and Inst) and apply modifiers to the mesh itself or to the Instance+ if needed. New button highlights.

New Align functions for Live Plane. Align any object to live plane in one click.

New Online Documentation is now available. It will be expanded an updated as the development continues.

Mac OS is now supported (Beta). It should work just fine but may have some bugs. Please Report.
Improvements:
Every function is fully rewritten and reworked.
New UI will now stretch with the window and the text will expand based on the with of the buttons.
Interactive Sliders are now much faster.
PDF documentation is now replaced with online documentation (can still download as PDF).
Delete Node function modifier is now inverted. Normal Click will now delete last node and Shift + Click with the node selected will delete the selected node.
Straighten and Interpolate functions are now much faster when selecting multiple edge groups.
Snap to Poly now has Pre-Duplication option. When enabled it will always leave behind instanced version of the snapped object(s) to allow for additional editing.
Create Maya Material window will now open a custom window with available materials and clicking on any material will create it and automatically add it to the appropriate material slot.
Save Preset material preview creation is now more reliable.
Numerous small improvements of the code for reliability and stability.
Fixed Bugs:
Fixed boolean transforms issue when using in conjunction with Instance+.
Matching names should no longer cause an error on some functions.
Numerous small bugs were fixed during a full rewrite from MEL to Python.